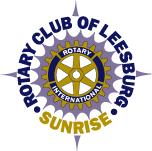 Rotary Club of Leesburg (Sunrise)
---
home |meetings | contacts | people of action | membership | annual bloodscreening | history | links
---
MEETINGS
The Rotary Club of Leesburg (Sunrise) meets for breakfast each Tuesday morning at 7:11 a.m. at the Leesburg Center for the Arts at 429 W. Magnolia Avenue in Downtown Leesburg.
Visiting Rotarians are encouraged to join us.
Those interested in learning more about Rotary and our club are welcome to join us.