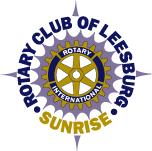 Rotary Club of Leesburg (Sunrise)
---
home | meetings | contacts | people of action | membership | annual bloodscreening | history | links
---
WE ARE PEOPLE OF ACTION!
"Together, we share our passion for serving others in the Leesburg Community. We uphold our Rotary Core Values: Service, Fellowship, and Diversity with respect, trust, and hard work."
We have a lot planned this year. Don't forget to check out our Facebook page.
Chartered in 1981, we are Rotarians working together for the benefit of our community, and in support of the international community service initiatives of Rotary International.
We are proud to be members of the world's oldest service club, founded in 1905, and to be associated with its strong record of local and international community service.
If you are interested in learning more about Rotary in our community, please contact us for further information on membership in our Rotary Club.